Ofsted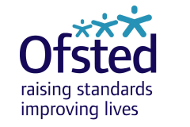 Ofsted ranked our school as "Outstanding" in February 2023
Download the latest report below
Dear Parents and Carers
OfSTED Report – 2023
We are delighted to finally share with you the school's new OfSTED report which is a wonderful confirmation of the exceptional education enjoyed by pupils at New Haw. Please take the time to read and enjoy the report.
We are enormously proud of our staff who have worked exceedingly hard to achieve this outcome.
This report is also a celebration of the pupils we are privileged to teach "Pupils show impressively mature attitudes. They are unfailingly polite and respectful. Pupils conduct around the school is exemplary."
This was New Haw's first full inspection since 2009 when we were previously graded as 'Outstanding'. It is important to note that it is now far harder for a school to be graded 'Outstanding' than it used to be. The majority of schools, such as New Haw, with a historic classification of 'Outstanding' have been downgraded on re-inspection. This makes our achievement truly exceptional.
We would like to take this opportunity to thank you all for your support and for the contributions you made to the inspection.
Mrs Cahill
Executive Headteacher