English
Vision
At New Haw Community School we have a relevant, deep and broad curriculum that inspires children to love reading and writing and be confident speakers of the English language.
Children are exposed to a wide range of texts of differing genres as well as a variety of teaching strategies. Consequently, children develop the skills, strategies and knowledge they need to take pleasure and meaning from language in all its forms - they will be independent, critical, life-long readers and learners.
We promote speaking and listening exercises that dig deeper into learning opportunities. In this way children become confident, accurate and versatile users of language, in both spoken and written forms. A language-rich environment enables children to become accurate spellers but also to access all areas of the school curriculum through an enhanced understanding of vocabulary.
Our English curriculum ensures explicit teaching of spelling, grammar, punctuation and handwriting, and, subsequently, children leave New Haw with a consistent, cursive and legible handwriting style; the ability to spell most age appropriate words (see National Curriculum); able to make phonetically plausible attempts at new words; able to use all appropriate grammatical techniques for purpose.
Ultimately, we aim to provide children with appropriately differentiated, inspiring, and challenging teaching, which allows them to become mature, logical, and enthusiastic readers and writers.
Curriculum design
Curriculum Map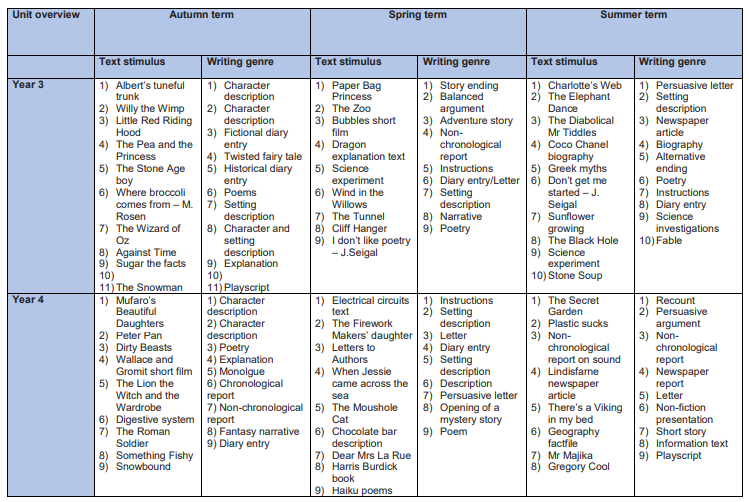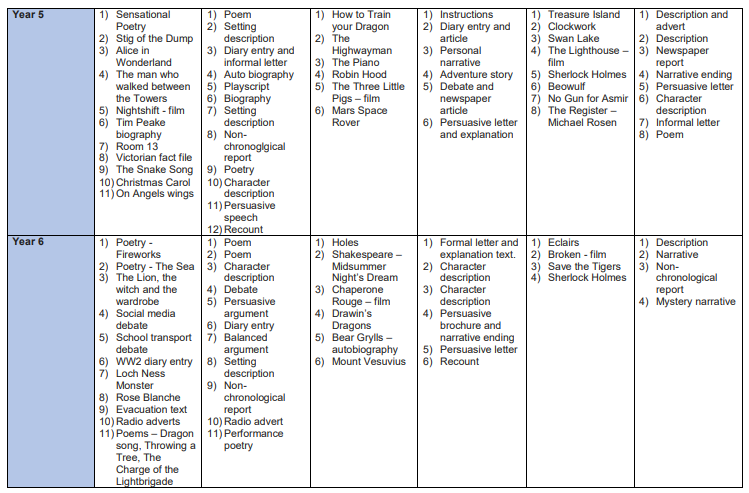 Rationale
At New Haw, we follow the sequence of learning as set out in the National Curriculum framework for English. Our curriculum provides children with an understanding of the power of the word in all its forms and the ability to use the written and spoken word to express themselves. They learn that reading, writing and spoken language are key components to success in every aspect of the curriculum and the wider world.
Our whole curriculum has the common thread of high-quality vocabulary. We know that a child with weak language skills is statistically more likely to fall behind their peers by the end of KS2 and further into adulthood. This means we have a strong focus on developing pupils' vocabulary through the Word Aware programme. Pupils are exposed to high-quality vocabulary in meaningful ways that helps build their ability to read, write and articulate themselves.
Spoken language has a high profile at New Haw and is woven through many aspects of the curriculum. We understand the value of being able to verbalise your ideas, opinions and feelings articulately. In order to support this, we seek every opportunity to develop oracy across the whole curriculum. This takes many forms, such as drama in a range of subjects, debate and performance (poetry, class assemblies and more).
We recognise that learning to read is one of the most important things that children can learn in school - it is fundamental to accessing all areas of learning and functioning in modern society. We know that being a fluent reader allows pupils to comprehend texts that are more complex, so a greater emphasis is put on decoding in lower KS2 in order to set children up for success in later years.
Upon entering the school, every pupil is screened for their ability to read and write the 44+ phonemes and all their representations. Not all pupils are completely confident in all phases of phonics teaching. Pupils are then grouped within their year group and targeted phonics teaching is provided for identified children. At New Haw, we have a tailored phonics scheme, which is based on the Dandelion Readers programme. It follows the same sequence as Letters and Sounds but is a more accelerated scheme that is aimed at KS2 pupils. These lessons provide pupils with opportunities to read and write in a variety of contexts. In year 4 and above, pupils who are below age related expectations for reading and/or spelling are screened and then taught in small groups or 1:1 by a trained teacher or teaching assistant. The texts used in the scheme are high interest, low threshold texts to ensure engagement for all.
We recognise the importance for the explicit teaching of comprehension techniques through modelling and supported practice. This is done through daily Text Detective sessions. During these sessions the teachers model active reading, the children practice a specific comprehension technique and targeted feedback is used to improve outcomes.
During every unit of English, children are exposed to high-quality texts from a range of cultural, historical and social contexts. Pupils encounter fiction and non-fiction texts that differ in style and genre. These genres are revisited in a spiral curriculum that allows pupils to build on prior learning and expand their understanding with increasing complexity.
At New Haw, we believe in immersing our children in texts through reading and analysing the skills of an expert writer. This is important because, through this immersion, children become aware of the language skills of a writer and use this as a model for their writing. Using this model, children develop greater competence in the conventions of spelling, punctuation, sentence structures and text organisation. English units of work last between 1 and 2 weeks, are centred on a high-quality stimulus, and carefully sequenced to support pupils' writing. In the majority of cases this is a written text, but occasionally may be film. If a video is the main stimulus, a high-quality supplementary text will be used (this may be created by the teacher). Texts are aimed at the high end of the year group expectations for reading to ensure all abilities are exposed to rich vocabulary and ambitious literature. Our English curriculum extends themes and texts over a number of weeks to allow children total immersion in a topic and this lesson structure allows for development of writing skills (imitation, innovation and application of new skills and ideas). This allows children to engage with a topic or text in a more meaningful way to extend their learning. It will enable them to express feelings, thoughts and imaginative ideas in verse and prose and to foster writing that is clear, direct, logical, vivid, and appropriate for a specific audience.
Pupils are given the opportunity to deliberately practice writing in a variety of fiction and non-fiction styles and genres across all year groups. This spiral approach to writing means children revisit prior learning and build upon this with increasing complexity. Pupils are encouraged to develop their own ideas, vocabulary and creativity with increasing freedom of choice as they progress through the school.