Christmas Fayre 2022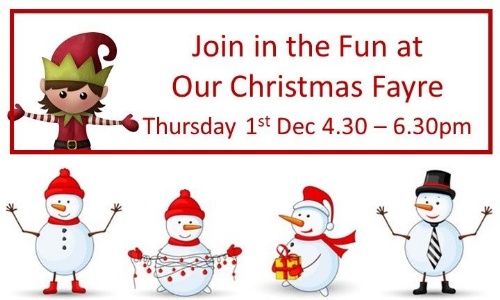 We are really looking forward to seeing as many of you as possible at our Christmas Fayre next Thursday 1st December. This is always a fun event much loved by all and we would love you to support us in any way you can, be it volunteering some time to help set up, sort through donations, donate chocolate or bottles for our tombola, buying raffle tickets for your chance to win £100 cash or the highly prized VIP DAY with Mrs Cahill! There are so many ways you can help support the school!
Year 6 are bursting to show off their entrepreneurial skills on their Junior Apprentice stalls, we also have external stalls ranging from The Body Shop, The Hummingbird Boutique to handmade Christmas gifts and decorations, a wonderful array of treats! We look forward to seeing you there!
If you are able to help volunteer some time please sign up here: https://volunteersignup.org/L88PT
Thank you!