New Haw Pupil Parliament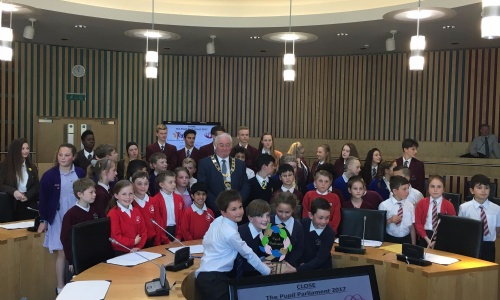 On Tuesday 2nd of May, 4 children from debating club went to the Council Chamber at Runnymede Borough Council offices to represent our school.
Rosie, Daniel, Maddie and Yash had been tasked with presenting the values of our school to a full room of peers and adults in such a way as to convince them that New Haw is an amazing place to be. After their 5 minute presentation, a debate was opened up and the children discussed which values were the most important across our borough and which should be focused on by the government. The children would vote on the best school's presentation as well as contribution to the debate; there was even a trophy for the winners! The children were very nervous to be presenting in such a grand room, particularly as the Mayor was in attendance, but they soon calmed down and were excited to give their speeches.
New Haw was one of 8 schools taking part and were fourth to present after some impressive speeches from other schools. The children presented in a clear and articulate manner and made eye contact with the children and adults around the room. After all the schools had presented, a debate was opened up. There was an exuberant debate between Yash and a child from another school who were both making valid points and effectively using rebuttals! Eventually, more children began joining in and there were confident exchanges between all schools. The debate only finished as we had run out of time!
After a tense wait, the runners up and the winners had been decided. The results were announced and New Haw had come second! We were thrilled and the other schools showed great sportsmanship. Unfortunately, we missed out on the trophy but Maddie, Rosie, Daniel and Yash made sure to congratulate everybody involved.