Year 3 are so busy!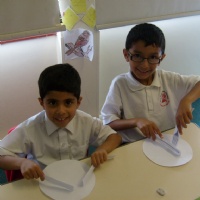 Children in year 3 remember their manners!
Another week in Year 3 and we have been doing a range of activities! In PE, we have been creating different balances, shapes and jumps ready for our group sequences. We love gymnastics in Year 3 and we are all keen to link our physical learning to our Science topic, 'Amazing Bodies'. We are a little bit nervous about performing our routines in front of our class but we know it will only make us better!
In PSHCE, we have been learning about having good manners and remembering to always use our Golden Words! Another great week in Year 3.