Looking through the window with year 3!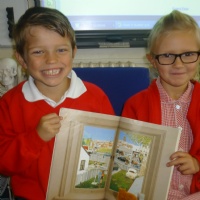 Views through the window.
This week in Year 3 we have begun our Through the Window book by Jeannie Baker. The children are going to be using their 5 senses to create descriptive writing passages. We continue to look at our amazing bodies and create healthy weekly plans that we hope the children try to stick to all week! Our sketching skills are improving and as a year group we are getting more confident at this.
Year 3 look forward to showing off our current work to the parents!