Forties experience for year 6!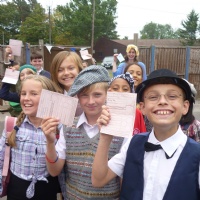 Year 6 enjoy stepping back in time!
Last Wednesday, Year 6 staff and pupils put on their best 1940s outfits and went on an exciting trip to the Forties Experience. We had lots of fun experiencing what it would have been like to be a child during World War II, including school life and living through air raids.
We particularly enjoyed hearing emotional stories about evacuation from real life veterans. Although we were exhausted, we came back with lots of knowledge about World War II!