Our year 6 production of Bugsy Malone!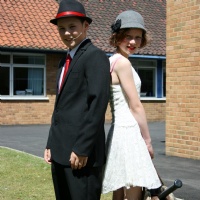 Read all about Bugsy Malone!
Splurge attack at New Haw Community School!
Dandy Dan's Gang caused mayhem and terror this week, when they attacked Fat Sam and his hoodlums during a Year 6 performance of Bugsy Malone. Parents and pupils had front row seats as they watched the rivalry between the two enemies unfold.
The school's production of Bugsy Malone, drew gasps from the audience as they were treated to an enthusiastic and believable portrayal of the 1920's gangster world. Bugsy, played by Max, together with Blousy, played by Immy, stole the show as they helped to bring an end to the fighting. But it was not just the acting that impressed. All the children sang their hearts out and delivered a stunning musical accompaniment. Well known favourites included: Fat Sam's Grand Slam, My Name is Tallulah and So You Wanna Be a Boxer.
All four performances, which took place in the School Hall, were a huge success and demonstrated the commitment and hard work that all the pupils had put into rehearsals.