Sports Day Fun!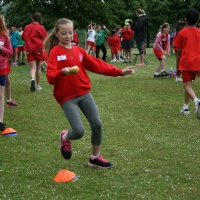 New Haw children brave the weather for Sports Day!
Even though the rain threatened to dampen our spirits, the New Haw children rose to the occasion in true sporting style. They cheered, danced and raced their way through the day and entertained their parents thoroughly.
We were so proud of their leadership skills, good sportmanship and fantastic team spirit.
We're already looking forward to next year!