Year 5 River Trip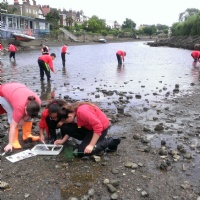 Year 5 visit Thames Explorer!
Year 5 have spent two days this week exploring the River Thames at Chiswick. All the children spent time on Chiswick Pier identifying features of the river and recording all the wildlife that can be seen on the river.
Swans, herons, gulls, moorhens and coots were all spotted! Unfortunately, one of the experiments to monitor the speed of the river was ruined when a hungry crow dived down and ate the biscuit that the children were tracking!
Although the river looked dirty and brown, the acidity test revealed that the River is very clean and perfectly balanced. This explains why the Envirnoment Agency have won an international award recognising the thriving natural habitiat that the River Thames now supports. As well as learning all about the history of the River Thames from our informative guides at the Thames Explorer centre, we were all taken down onto the foreshore of the River to see for ourselves what wildlife could be found on the river bed.
Thankfully it was low tide so wellies were all that were needed to to paddle in the mud and ankle deep water. Everyone had a net and found plently of fresh water shrimp, estuarian prawns and baby flounders to collect in their observation trays. Evidence was also found of snails, asiatic clams and chinese mitten crabs. It was a fun and fascinating day and helped us all to learn so much more about the River Thames. Thank you to everyone who helped on the trip and to Thames Explorer for hosting us over the two days.