Tudor Day at New Haw!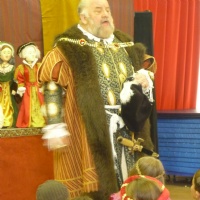 Henry VIII visits school.
On Thursday, the year 4 children and staff enjoyed a wonderful Tudor Dress Up Day. The highlight of the day was a puppet show presented by the 'On The Other Hand Puppet Theatre Company'. This was performed by two actors and a host of beautifully made puppets. After the performance, the children had the opportunity to ask Henry VIII himself a variety of questions.
During the day, the pupils performed some Tudor dancing and played the traditional Tudor board game of 'Nine Men's Morris'. They ate jam tarts, a Tudor sweet treat, and made a Tudor rose to remind themselves of how the Tudor dynasty began with the Wars of the Roses.
All of the children and staff had a thoroughly enjoyable day and looked magnificent in their traditional Tudor costumes! Well done everyone for making such a tremendous effort with your costumes!