4B visit The Roald Dahl Museum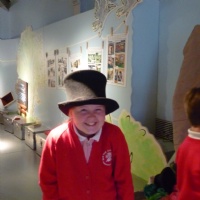 Year 4 have a really good time at the museum.
Year 4 thoroughly enjoyed their trip to the Roald Dahl Museum in Great Missenden this week. They had lots of fun making up their own revolting rhymes, seeing Roald Dahl's REAL writing hut and discovering many interesting (but gross) things about him. Did you know... he kept his hip bones and spine shavings?! Yuk!
Visiting Roald's grave was also amazing and very peaceful.