Waitrose boost for Gardening Club!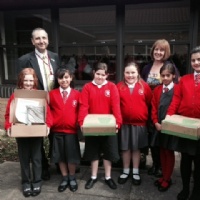 Enthusiastic gardeners receive a free donation!
Gardening Club get a Helping Hand!
Waitrose Supermarket, based in West Byfleet have given the Gardening Club a helping hand this week by donating 4 Grow and Sell Seed Kits to the School.
Each box contains a variety of seeds to plant and grow, including lettuce, beetroot, peas and wild flowers. Each boxes also comes with a selection of pots, compost and tools. The gardening club are seen here with Robert Navarro, the Partner Co-ordinator Manager from Waitrose, when he visited the School this week to drop off the boxes. Our Green Fingered Gardeners are looking forward to planting out our new stock over the coming weeks!