4W enjoy their Roald Dahl workshop!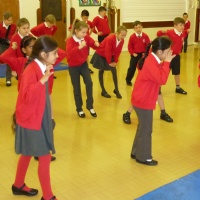 Read all about 4W's adventures at their workshop!
Year 4 have come back to school rested, relaxed and raring to go for the Summer term!
We have started a new English topic, all about everybody's favourite author: Roald Dahl!
We have been reading his stories, discussing the themes and creating our own "baddie" Roald Dahl characters. On Tuesday, 4W had a Roald Dahl workshop which was lots of fun. We learnt all about Charlie and the Chocolate Factory and the different characters. We are looking forward to our visit to the Roald Dahl Museum in a couple of weeks!