4W's busy week!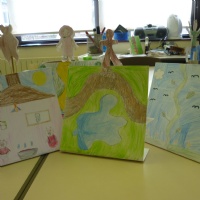 Read how busy 4W have been this week preparing for their class assembly!
This week in Year 4 has been very busy!
Year 4 has taken part in an exciting DT day where we designed, constructed and created our own Cam Toys.
Then, on Wednesday we all took part in a music day where we sung, composed and performed for our class mates.
Finally, at the end of the week we all enjoyed 4W 's Easter Assembly! We thought they were fabulous - especially their beautiful singing.
Year 4 are now all ready for a well deserved Easter holiday!