Read all about our Book Week activities!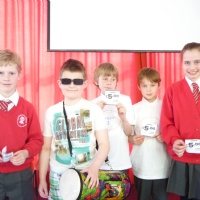 Poetry Slam Winners!
Book Week
Last week our school enjoyed a fun and fully-loaded book week.
To kick off our fun week Mrs Dempsey and Mrs Kirkland set up a poem quest. Many children got excited and hunted for all twenty poems. Lots of pupils found all twenty poems and the winners received a £5.00 book voucher.
Tuesday was a blast as an incredibly famous poet named Brian Moses came and visited are school and gave an inspirational assembly. His performance was mind-blowing as he used many different and unusual drums. Later in the day Brian Moses got to work with some of our pupils and they wrote poems about memories. We had so much fun!
On Wednesday afternoon we had some amazing auditions for the second ever New Haw Junior School poetry slam. There were some great poems and one from each class was put forward to compete against the rest of the school.
After lunch on the following day, the poetry slam took place in our school hall. There was a crew of talented contestants from each class performing their own or someone else's poem. We had a lower school and upper school winner and they both received a £5.00 book voucher.
To put an end to our fabulous week we all dressed up as our favourite book character. Some of us even got picked to be in a newspaper!
Many pupils thought that Book Week was the best week of the year and everyone is looking forward to having it again next year.
By Frankie Hoskin