Fun during book week!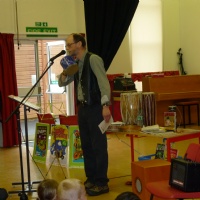 Read how children at New Haw enjoyed our Book Week activities!
New Haw Community Junior School book week 2014
Pupils and staff alike have ditched uniforms and work clothes for colourful and imaginative costumes today! Corridors and classrooms were full of favourites from literature, such as Harry Potter, Fantastic Mr Fox, Alice in Wonderland and Gangsta Granny! The ever-popular event rounded off a week of poetry-themed activities, aimed at immersing the children in as much good quality, entertaining literature as possible. Other highlights of the week included a visit from poet Brian Moses who gave an inspiring performance of his poetry and percussion show, and a whole school poetry slam competition.