Our cross country team!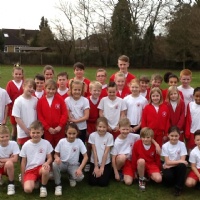 Congratulations to our cross country team!
Goldsworth Park WASPS Cross Country
Goldsworth Park cross country competition consists of three events, a short and long course which we have already completed and a relay race which is being held on Tuesday 25th March. Eleven schools (250 children) have taken part in these races.
Mrs Moore, Miss Hammond and Miss Ward were astounded at the interest when we asked the pupils at New Haw if they wanted to participate. Due to the popularity, we held qualifying competitions to find the top eight boys and girls from lower and upper school.
After the short course on the 11th March our year 5 and 6 girls were in 7th place and the boys were just behind in 9th place.
The year 3 and 4 race was a fun run and we were pleased to see one of our runners (William O'Neill) placed 7th in that race – high hopes for next year!
Well done to all the team!