Year 4 visit Hampton Court.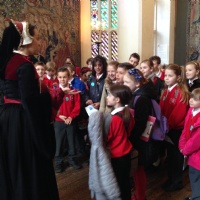 Read all about Year 4's visit to Hampton Court!
Year 4 went on an exciting historical adventure to Hampton Court Palace on Thursday 6th March. Each class explored King Henry VIII's private apartments, some of the 18 courtyards and even went into the beautiful Royal Chapel.
We took part in a Tudor Kitchen workshop which taught us all about life in Tudor times and how hard King Henry VIII's staff had to work! Did you know they cooked daily for between 400-600 people?
We were excited to explore and compare the Georgian buildings at the rear of Hampton Court Palace that was built by William and Mary.
We had a great time and learnt so much!