Year 6 experience life in Victorian times.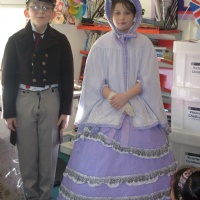 Dressing up in Victorian outfits!
The Victorian workshop!
On the 5th March year 6 experienced a creative and fabulous workshop, preformed by Chertsey Museum.
Jenny Shield taught us all about school life and how different the wealthy and poor lived. It was fascinating! Also we learnt about the school punishments some children had. She brought detailed replicas of the cane and other ruthless instruments used in the Victorian era.
After this, she revealed real artefacts worn by Victorian men, women and babies/children. Jenny had to put on special gloves when handling though, to protect them from damage. As well as this, some children in a class got to put on similar clothing and demonstrated the steps to put on and wearing different genre of cloths.