DT projects in year 4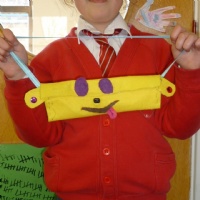 Making money containers in year 4
Before half term, Year 4 had been creating their own money containers. We had to follow a series of instructions given by our teachers.
First we made sure we had all the materials we needed. Then we made a paper template and traced it out onto felt. Next, we sewed up the seams, making sure we weren't too near to the edge of the felt. After that, we decorated our containers and put on the fastening. In the end, we had a silent art gallery, looking at everyone's designs.
It was very fun and the day after, we took them home- ready to show out families what we made and to give them to who ever they were for.
Written by Imaan Siddiqui (4B) and money container made by Kaitlin Swan (4B)