Sportshall Athletics Event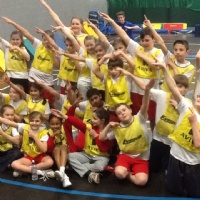 2nd place for athletics team!
Sportshall Athletics Event
Twenty five pupils from year 5 & 6 competed in an indoor athletics competition on 6th February 2014. Each pupil competed in field events like long jump, triple jump and javelin, as well as track events whichinvolved sprinting and relays. There were 6 schools competing and we came a brilliant 2nd! We missed first place by only 10 points.
Well done to all those pupils who competed!