The Young Shakespeare Company visit New Haw!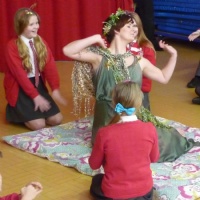 Year 6 enjoy their Shakespeare workshop!
This week year 6 had a Young Shakespeare Workshop. We were treated to an exciting and dramatic version of Shakespeare's play 'A Midsummer Night's Dream'. We all made sound effects for the forest, such as the wind, rain and owls (which everyone enjoyed). After that we recited some lines from an argument between King Oberon and Queen Titania. Some people were even lucky enough to become actors in the play!
Lastly the actors put on Peter Quince's play...which was really funny.
The whole of year 6 said afterwards that they really enjoyed it. It was amazing!