Anderson Shelters by year 6.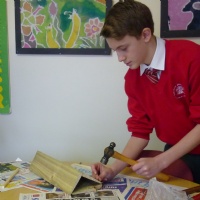 Year 6 use their skills during DT.
D.T. day
Last Thursday, the whole of Year 6 spent the day making model Anderson Shelters. Everyone got busy with the glue guns, hacksaws and hammers. At the end of the day, we had fun testing our models to see whether they were waterproof and sturdy enough to withstand a piece of shrapnel.