VIP day!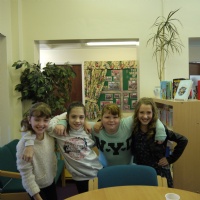 Charlotte and her friends enjoy their VIP day!
First of all my friends Phobe, Caitlin and Hollie came to my house to be picked up by Mrs Cahill. On the way we talked about the traffic (as Mrs Cahill thought it was really busy when it wasn't!) The closer we got to school, the more people stared.
Once we were in school we had breakfast in her office. There was a selection of iced buns, lemon tarts and chocolate muffins. Of course we all went for the chocolate muffins (they were delicious!) By the time we had finished we had escaped our dictation test!
At breaktime, we all met at the library for a photo-shoot and chose our sweets; we put the rest back in Mrs Cahill's office- we don't know if she ate any! Before we knew it, it was lunchtime. Mrs Cahill drove us to Bourne Valley to have lunch. We all had sausage and chips! Hollie mentioned chocolate cake and suddenly we all wanted some! We managed to persuade Mrs Cahill into letting us have a slice!
It's been a great day so far… Have to go – we're VIP guests at New Haw's Got Talent!