Snowstorm descriptive writing from year 4.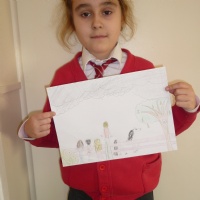 Kaitlin's imaginative diary entry.
This week, Year 4 were caught in a wild snowstorm and had to find shelter in a barn! What started out to be a school trip into the countryside soon ended in a disaster.
A diary entry, written by Kaitlin Swan in 4B, explains what we had to endure!
Today has been horrid. We started off on a walk with nature all around us and a warming sun in our hearts. After a while, we stopped to pick some luscious wild raspberries and so we didn't notice the clouds darkening around us. Before we knew it, snow began blazing around us and frost formed on our tongues. It was as white as Winter- in April!
After what seemed like hours, my friend, Lily, pointed to a dark shape which, although rickety and old, was a barn we could shelter in. As we got nearer, we started to get hungry. Now we are huddled around a fire, eating some food.
I must stop writing now for I am bitter cold and my hands are frozen.
Night night diary,
Kaitlin.