Cinderella comes to New Haw!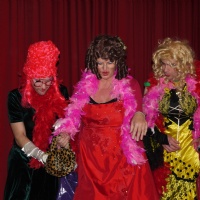 Read how characters came to life in panto at New Haw!
New Haw Staff Panto 2013
The school hall was filled with laughter, yesterday, as the children enjoyed our annual staff pantomime! It was a great pleasure to write the panto script again this year. I try to include famous faces from popular culture that the children will recognise, and as I write the words I have an idea of which teachers will play which roles.
This year I chose the story of Cinderella. It is very well known and has some essential characters. Miss Daly Mackenzie stepped into the famous glass slippers, and Mrs Carter-McQueen was her Prince Charming. There was her good friend Buttons, played by Mrs Wilder, and Miss Bhagwandas performed as Baron Revel Horwood – her father, but with a Strictly twist! Mrs Makepeace gave a magical reprisal of the role of Fairy Godmother, overseeing proceedings. Receiving more than their fair share of laughs and boos from the audience were the wicked stepmother and her two ugly daughters… But who was hiding behind the bright costumes and thick make-up? Miss Kirtland, Mr Baddock and Mr Nelson!!!
At this point, the panto veered off from the original and included additional characters not usually linked to the story. There were a couple of animals! Scooby, Cinderella's pet pooch, portrayed by Miss Hatcher, and Tiddles, who turned into Puss in Boots, who was in reality Miss Pavlis, bringing gymnastic flair to the show! There were also appearances by the 118 118 guys (Miss Ward and Mrs Moore, sporting attractive moustaches!), and, fresh from the jungle and accompanied by a spider, Ant and Dec (Miss Elliot and Mrs Koolman looking uncannily like the real McCoys!).
Add into the mix the King and Queen of New Haw, Mrs Hunt and Miss Curtis, and their Court musician – playing live saxophone! – Miss Davis. Checking everything was proper and above board, were Elf and Safety, the elfin health and safety officers, brought to life by Mrs Curtis and Miss Evenden. And last, but very much by no means least, a very popular character, Joey Essex! Poor Mrs Woolfson has become typecast in the role of not-overly-intelligent sidekick… but she does it so well!
A big thank you to all the staff for putting on such a terrific show. Now what shall we do next year…?
Mrs Dempsey