Christmas Assembly performed by 5C and the Choir.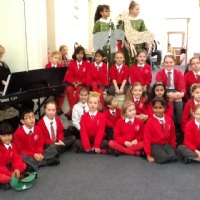 Christmas Around the World
Christmas Assembly - Class 5C
This morning pupils, parents and staff enjoyed a wonderful Christmas assembly entitled 'Around the World' performed by class 5C. It was a charming production with very entertaining character parts and delightful singing from the choir. Congratulations to class 5C for writing such an imaginative script and for a super performance.
The assembly took place at Heathervale who regularly welcome us at this time of year. We are very grateful to Rev Martin and Mrs Robinson for their kind hospitality.