Australasian Arts Week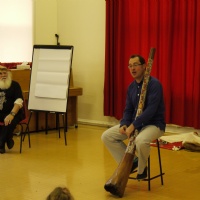 Children thoroughly enjoy the weeks activities.
This week children have taken part in a variety of different activities based around the theme of Australasia. The whole school worked with Francis Firebrace and Joss Peach studying aboriginal art and the didgeridoo. Children learnt about Australian culture from Francis and were told some dreamtime stories.
During the week children looked at a book called the Rainbow bird and created drama scenes and looked at the meaning behind the story. Years 3 and 4 made Anzac biscuits and in PE lessons children learnt the Haka.
Each year group also completed an art project with some fantastic results. Year 3 made photo frames and decorated them with dot painting. To go in the frames they made a silk painting of the rainbow bird. Year 4 and 5 made model 3D snakes and turtles, decorated in dot painting. Year 6 made traditional Maori masks.
Dress up day saw children and staff dress up in a whole range of costumes. We had kangaroos, the Christmas Islands, explorers and other fantastic costumes.
All together, we had a fantastic week and it was enjoyed by all!