5C visit Chertsey Museum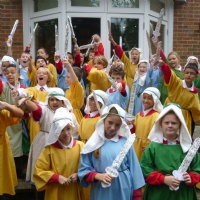 Find out how 5C enjoyed their visit to Chertsey Museum.
Here come the Vikings
Year 5 have recently been on an amazing day out to Chertsey Museum. We discovered all about life as a Viking and learnt lots of facts! We enjoyed finding out about the weapons such as swords, spears, axes, daggers and sharp knives.
We also enjoyed making a Viking sword out of card and we decorated it in gold and silver. At the museum we dressed up in a tunic and the girls wore a head-dress .
The whole of year 5 got to see a real Viking sword, that had been found at Thorpe Park.
Year 5 would love to go back and visit Chertsey Musuem .
Written by Taylor, Olivia, Lauren and Janna 5C