Viewpoints in art by year 4.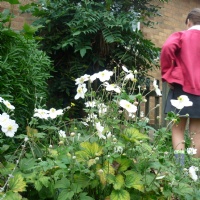 Year 4 enjoy their art topic!
This week we've been working hard on our 'Viewpoints in Nature' art topic. We went outside to have a look at the nature around us. Using a viewfinder and camera, we got pictures of our beautiful, autumnal surroundings. We also collected leaves, flowers, twigs and stones, which we found interesting, then took them back to class to sketch. We used our leaves to create rubbings and then sponged paint on to them to print on to different paper. It was a very messy but very fun afternoon!