Inter-house netball tournament.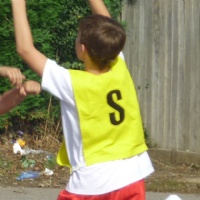 Hooray for green team!
This week year 4, along with the other year groups, took part in inter-house netball. Many of the children took part playing for their coloured team and all the other members of the year group cheered the players on. The tournament lasted an hour in lower school and an hour in upper school. The children were eagerly awaiting the final scores, which were finally revealed in Friday's assembly. It was a tight competition with Red team coming in 3rd, Blue and Yellow team coming in joint 2nd and Green team coming 1st! We put the result down to the year 4 green team being the loudest cheerers of the afternoon!!