The Rainforest comes to New Haw!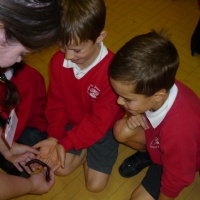 Read how Year 4 enjoyed their Rainforest Adventure!
This week in year 4, we had the rainforest workshop. We found out lots of interesting facts about rainforest animals and some of us even got to hold some of them.
We saw a tarantula and found out the best way to catch one is to tap a stick on the forest floor as they mistake it for a stick insect and come out to grab it.
We also saw a HUGE snail. And, did you know a snail has teeth on its tongue! Apparently, if you put cucumber juice on your hand and then the snail you can feel its tiny tongue teeth – not sure that's something we'll be trying any time soon though!