Da Vinci Art Group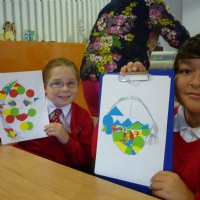 Our gifted and talented art group visit The Lightbox in Woking.
On Thursday 12th September, the gifted and talented art club visited the Lightbox Art Gallery in Woking. The children went specifically to look at the exhibition by Nikki Douthwaite 'McLaren: Our World Champions'. This exhibition is in celebration of the 50th anniversary of McLaren. The children were able to see a real formula car and portraits of formula one drivers made out of confetti art; 150,000 dots of paper attached to a wooden board.
They then took part in a workshop and had a go at making self portraits using confetti art. The results were fabulous and children came away feeling truly inspired. We will now get to work in our art club creating our own confetti art inspired pictures. We look forward to showing you our results soon.