New Blog Post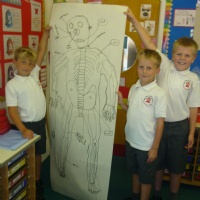 Science fun in year 4
In year 4 we have started our moving and growing topic in science.
In our first lesson, we had lots of fun drawing around someone in the group and then trying to draw what we thought a life-sized skeleton looked like. We have also been learning all the common and technical names for the bones in our bodies.
Fun fact- Did you know that the funny bone is a pun on the scientific name: the humerus?