Year 4 children visit Brooklands Museum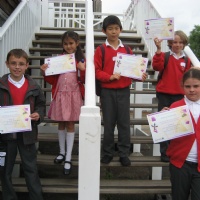 Read how some Year 4 children enjoyed their special day at Brooklands Museum!
Our day at Brooklands Max Sutcliffe
On Friday 28th June, five year 4 children went to Brooklands Museum for a maths and science day with lots of other children from other schools.
We had a great day.
In the morning we made parachutes in small groups and in the afternoon we modified and tested them. Some of them worked very well.
We also did a maths and science trail all around the museum.
I learned that one of the first aeroplanes only flew 10 minutes, and when a Harrier plane broke down, the canopy would explode so the pilot could bail out!
We were all given a certificate to remember our day.