Book Week Balloon Debate!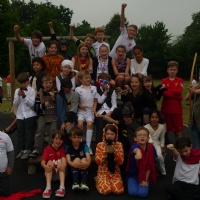 New Haw celebrates Book Week with a balloon debate!
New Haw Junior Book Week
The hall of NHJS was full of unfamiliar faces today as staff and children dressed as heroes & heroines as part of their annual book week! Every child chose a hero or heroine (past or present, real or imaginary) and wrote a speech for their class balloon debate, with the likes of Jessica Ennis, the Hulk, Nelson Mandela and Hermione Granger battling to be the last person in the metaphorical sinking balloon. The event has been a huge success, with the children creating powerful, inspiring speeches, and the week has been enjoyed by all..