Yr 6 Visit to Osmington Bay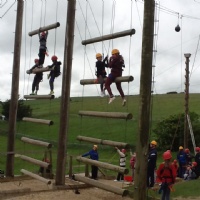 Yr 6 Visit to Osmington Bay
Yr 6 Visit to Osmington Bay
Monday - Having left school the group headed for Monkey World. Everyone enjoyed looking around the various enclosures and had great fun in the Great Ape playground. We arrived at PGL Osmington Bay, settled into our cabins and then headed off for a tour of the site. After a busy day followed by an evening activity called "Wacky Races" everyone was very ready for their beds and all the children went to sleep very quickly.
Tuesday - Today we awoke to a very misty Osmington Bay, but all the children were very excited about the days activities which included a beach walk, the Giant Swing and Jacobs Ladder amongst other things. The sun has come out this evening and we are looking forward to a campfire.
Wednesday - Raft building was the main event of the day with 4 groups going to the Weymouth and Portland Watersports Centre in the morning and 3 in the afternoon. The centre is where the Olympic sailing events took place last year and today there were many Team GB boats out on the water for a sailing event, along with boats from Australia and China. Most of the rafts stayed afloat!
The children have also enjoyed a fencing lesson today and a ride on the zip wire.
Thursday - The dull start to the day didn't put anyone off todays activities which included abseiling, aeroball, sensory trail (yes they did get wet, but this time it wasn't the rain) and rifle shooting.
Abseiling is always challenging to children and adults alike, but the majority of children did have a go, many of them overcoming a fear of heights to complete this activity.
The last evening activity is the Disco and everyone is busy putting on their party clothes in readiness. Just enough time this evening to pack the suitcases before the return to New Haw tomorrow afternoon.