Copper snakes at New Haw!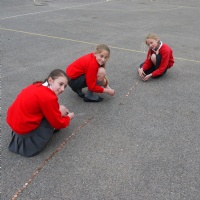 Find out which class won our copper snake competition!
On Monday members of our school council, guided by Mrs Eve (PTA Chair) were very busy laying out their donated change to form copper snakes.
Competition between the classes was fierce and we are glad to announce the following winners:
Upper School Winners:
6G- 49.65m
Lower School Winners:
4M- 32.84m
Thank you for supporting our fundraising event.
The final total collected will be announced in due course!