Year 5 visit the Thames Explorer!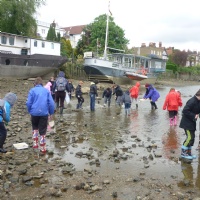 Messing around on the river!
This week, all of Year 5, have meandered their way to the river Thames at Chiswick. The trip linked into our current Geography topic, 'All About Rivers', and gave us a chance to see the river in action!
Our first activity was to complete a sheet about the river and its features, and establish how clean the River Thames is. Unfortunately, greedy seagulls interfered with our experiment by eating the biscuits. However we did discover that, even though the River Thames may look dirty, it is clean and healthy.
Everyone's favourite part of the day was 'River Dipping'. This involved scouring the foreshore for evidence of wildlife. We all had a net and with great excitement, waded up to our ankles in the river. Crabs, flounders, water shrimps and leeches were all discovered and kept in our observation trays. However, the seagulls were also observing our trays and took every opportunity to dive in and eat our discoveries.
Throughout the day, we learnt lots about the history and development of the River Thames. We also learnt what we must do to preserve the natural flow of the river and its wildlife.
We would like to thank Thames Explorer for a fabulous day!