New Blog Post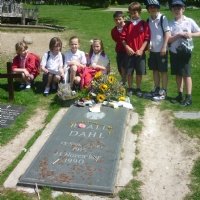 4CK visit the Roald Dahl Museum
My trip to the Roald Dahl museum
After a long coach ride, we eventually arrived at the museum. When we arrived in the courtyard, the vibrant colours filled us with excitement. Firstly, we filed into Miss Honey's classroom and our tour guide (who we thought was the kind teacher out of Matilda) showed us a replica of the orange chair that sat motionless in his replica writing cabin. Secondly, everybody tried out a different activity such as creating hideous faces of characters with imaginative names. However, some people dressed up in the outfits of Roald Dahl's characters.
Next we happily travelled to the Boy gallery. Some people went into peels of laughter when they discovered his super tricks- especially the Great Mouse Prank. Giggling, I wandered to the Going Solo gallery. This time it had the real writing hut, left in exactly the same position Roald left it. It seems so peculiar that this small hut was the birth place of such enchanting stories. Sadly, the wooden hut was covered with glass. Consequently, we couldn't reach in and grasp the strange items that the amazing writer once owned. Once we had eaten our pack lunches, we meandered up the hill. The hill, which seemed so steep, was a tire to climb even once we had our sugar boost.
The grave was the most exquisite thing I'd ever seen. There were sunflowers weaved together so they looked like fireworks exploding against the ebony midnight sky. The canary yellow petals were as bright as a diamond glistening in the sunshine. The poem from 'The Giraffe, The Pelly And Me' was engraved into the smooth pale grey stone. There were big BFG footsteps leading from the benches to his beautiful grave because Roald Dahl was nearly two whole metres tall!
By Ella Robinson, 4CK