Year 4 Woking Football Tournament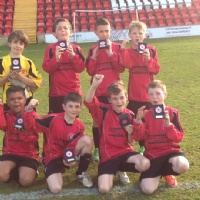 Year 4 boys tournament... semi-finalists!
Yr 4 Boys reach semi-finals at Woking F.C. Tournament
An exciting afternoon was enjoyed playing football on the pitch at Woking F.C. stadium. We played Horsell, Byfleet, Worplesdon and St Bedes in our group matches and finished top after winning three of the matches. The semi-final was against The Marist. Nerves jangled but the team scored to take the lead, which we held until the last moments of normal time. The Marist had a corner and unfortunately the ball found its way into the back of the our net. Extra time was played during which the team to score first would win. Both teams had chances but still the result was a draw. The team remained calm (though spectators found it hard to watch), as a penalty shoot-out would determine the winner. The post was hit, the goalies saved and finally The Marist won by 5-4 penalties. Disappointing but the boys were rewarded with trophies for their amazing performance.
Taylor Hill, Jasper Cox, Ben Curling, Charles Rees-Bell, Harvey Valter, Sean Swift, Mack Bell, Jack Norman