Year 3 visit to Wisley gardens!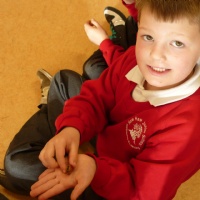 Read how Year 3 enjoyed their day at Wisley Gardens!
On Friday 26th of April Year 3 enjoyed a trip to Wisley gardens as part of our Science topic about Plants. Luckily the weather was mainly dry and we were able to enjoy exploring the different areas of the gardens. In the Glasshouse, children were able to see the different environments in which plants are able to grow. They were able to see where and how fruit is grown as well as spotting fish and ducks in the pond. The children also took part in a workshop where they were able to make their own pot and plant a pea seed. Children also got the opportunity to dissect a bean and to see the inside, looking at where the roots and shoots are found. Children looked at how different seeds are dispersed and were shocked to see the size of different seeds, from small sticky seeds to large coconut seeds! Altogether, the children had a great day out and learnt lots of interesting facts which will be useful back in class and for any potential budding gardeners!