New Haw's Governor's are amazed at Fairground Rides!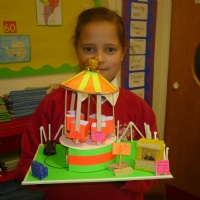 In DT, year 5 made the most amazing fairground models!
Nervous about meeting the board of governors, a few members of year 5 went to show them their astonishing fairground rides!
Children had the chance to talk to the adults about how they made their rides, what they enjoyed and how it worked.
The governors were absolutely amazed at the children's master pieces and appreciated the time and effort that they had put into the art work. Cydney from 5B said, "I felt nervous at first but when they actually started to talk to us, we liked them because they were quite funny. For example, one of them wanted to play football with us." After meeting the children, the governors are sure to visit again!
By William and Holly J