Roman day in Year 3!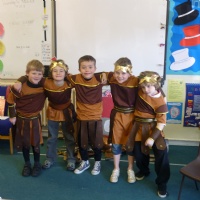 After Verulamium, the children enjoyed their Roman day!
On Thursday last week, Year 3 enjoyed a Roman dress up day as part of their Roman topic. Children came in dressed in some wonderful costumes, from soldiers to emperors! This was also Year 3's DT day so the children made Roman coin boxes. First of all we looked at packaging and the purpose of packaging. Then children designed their own Roman coin boxes thinking carefully about the mosaic patterns they would use to decorate their boxes.
Children made nets of their boxes as a practise and thought about how their boxes would fit together. In the afternoon, we set to work making our coin boxes and the children produced some fantastic work. They also made some authentic looking Roman coins to put in their boxes. Overall the children (and teachers!) thoroughly enjoyed the day.