Year 6 Victorian Workshop!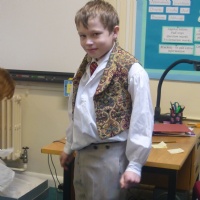 Read about Year 6's Victorian Workshop!
Victorian workshop.
The year 6 pupils had an exciting time in the Victorian workshop. We were able to explore Victorian artefacts and replicas. We gathered many fascinating facts about the Victorian period. We found out about the schools, punishments and toys: hoop and stick and the finger stocks. Our favourite part was when 2 pupils got to dress up in clothing as rich and poor families from the Victorian period.
Lauren and Lia