Groovy Greek Week!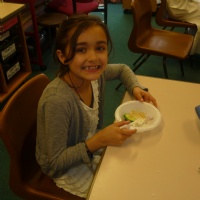 Read all about how Year 5 learned about the Greeks!
Groovy Greek Week!!
Year five have been treated to a fun filled Greek week! Throughout the week, all classes have taken part in all sorts of fun activities that have been going on. One activity that we thoroughly enjoyed was the Greek workshop which took place on Tuesday and on Wednesday exploring the myth of Hercules. Beth, who ran the workshop, told us all about this famous Hero and the trials he had to overcome. We acted out lots of scenes and it was lots of fun. Everyone loved it! We especially enjoyed being able to make the decision whether Hercules would be given permission to live on Mount Olympus with his father Zeus or sent to the underworld.
As a final celebration of our history filled week, we all arrived at school dressed as Greek people, gods or heroes. The whole year group looked amazing! During the day we were given a taste of some Greek food including: feta, olives, pitta bread and lots more. We all tried new things and some of us are even going to make a Greek salad when we get home as it was that delicious! To round the day off we watched the Disney movie Hercules. Seeing the difference between the myth and the film was very interesting and listening to the music definitely brought smiles to people's faces! Everyone had a brilliant time and throughly enjoyed themselves!