Fun during maths week!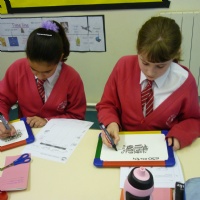 Find out how the children were challenged during maths week.
Our theme for maths week this year has been the "problem solving tool box".
Children, in all year groups, have developed a range of problem solving strategies including drawing tree diagrams, acting out, logical reasoning and drawing a table. Some pupils even entered the class in reverse to get them ready for problems involving working backwards! In year three a troop of monsters challenged children to help them to solve problems. Throughout the school children were highly motivated by trying their "tools" on a range of demanding problems.
Miss Graham
Maths Co-ordinator