New Blog Post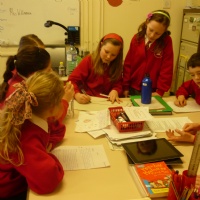 Year 5 Newspaper Articles
Before half-term Year 5 were looking at newspaper articles. To help us write our own newspapers, some famous people were lurking around the school so we thought we would give them an interview. These famous people were Icarus, Pandora, Theseus and Arachne. We asked these famous participants complex questions and they did their best to give the best answers possible. Using these quotes, we started to write our newspaper articles.
Excited, the pupils of 5B enjoyed a fun drama lesson in P.E. They were making up dance routines for the Greek myth (Theseus and the Minotaur.) We danced to the part where King Aegeus, the King of Athens, had to pick the children to go and be the dreaded Minotaur's victims. We had to make 4 moves to act it out and each move had to last 4 beats. If they wanted a challenge they could do 8 beats. "I thought it was really fun and enjoyable!" commented Ella from 5B. It proved to be a great morning.
Year 5 also carried out some exciting science experiments, linked to gas. We wondered if gas had a weight. The other experiment was to prove whether or not air was real. Our results show that you can see air in many different ways and that gas does have a weight. After we completed our experiments, we evaluated our work and thought about possible improvements.
By Holly and William 5B