Year 5 update 26 May 2016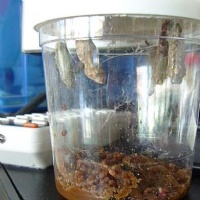 Metamorphosis - 2 weeks 1 day
Year 5 have had a very busy half term! We have been working hard on improving a range of skills across a variety of subjects, including our handwriting, spelling and mental methods in Maths.
After the Easter holiday, we began working on our most recent Science topic: Living Things and their Habitats. We have learnt about the life cycles of mammals, birds, amphibians and insects; we have been fortunate enough to study one of these in greater detail, as each Year 5 class has been observing its own group of caterpillars as they transform into butterflies! At the moment, most are in their pupal stage where they have created a cocoon (chrysalis) around themselves; a hard shell-like case which will protect the caterpillar during metamorphosis. We are eagerly waiting the next stage where we can transfer them to their hatching habitat. Watch this space!
We have taken part in other exciting activities too, such as 'Bikeability' this week; well done to everyone who participated!
After the half term break, we are looking forward to visiting Fullbrook again for an 'away day' as we prepare for moving up to Year 6 and then on to our chosen secondary schools next year.